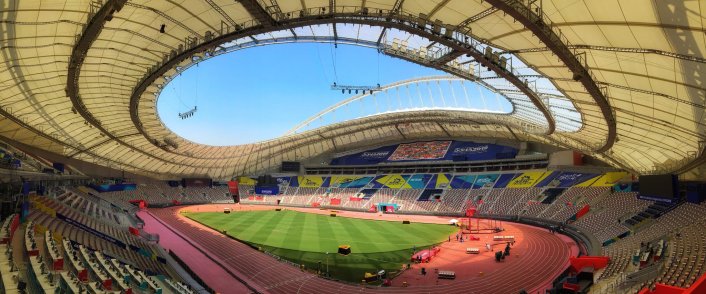 The World Athletics Championships were held in
Doha
, Qatar from 27th September to 6th October. The event was held at the
Khalifa International Stadium
, a 46,000-capacity venue which had a complete overhaul in 2017.
Aerial Camera Systems Filming at the World Athletics Championships
Aerial Camera Systems
(ACS) were the specialist camera provider for the World Athletics Championships and had the following specialist cameras and crew at the event:
3 x CAMCAT Wirecams fitted with Cineflex V14 and Cineflex Pro; one a 2D wirecam on the back straight and another wirecam on the home straight
110m x Dual camera railcam on the home straight fitted with 1 x Cineflex V14 and 1 x Cineflex Pro+
80m x back straight railcam fitted with 1 x Cineflex V14
4m Vertical Track fitted with HFR Camera package – covering the Javelin/Hammer throw and Shot Put
Fixed Minicams
12 x Antelope Pico extreme slow motion cameras
1 x HD RF Polecam Pico system (link)
10m Railcam fitted with HDC-P1 camera capturing the corridor athletes make their entrance to the stadium through
Call Room remote
7m Vertical Track with UHD camera package on the outside races
3 x fixed beautycams .
There was a total of 35 staff on site with a dedicated project manager.
The IAAF World Athletics Championships
Over the years the competition has grown in size. In 1983 an estimated 1,300 athletes from 154 countries participated. By the 2003 competition, in Paris, it had grown to 1,907 athletes from 203 countries with coverage being transmitted to 179 different countries.
World Athletics Championships 2019
The Championships had packed
schedule of events
including the first ever midnight marathon. A new format for competition's schedule saw all morning sessions removed and split evening sessions introduced for the first time, with one-hour intervals to allow for entertainment and family activities.
World Athletics Championships Results
A total of 143 medals were awarded, two world records were broken, and the midnight marathon and 4x400-metre mixed relays made their global debut. A full timetable and list of results can be found
here
After a hot and action packed few days the Aerial Camera Systems crew are now back in the UK prepping for the next project. To find out more about how our specialist cameras crews can make the most out of your next filming project, whether is filming live sport, or any other sort of action, then please
get in touch
, or visit our
website
to find out more.