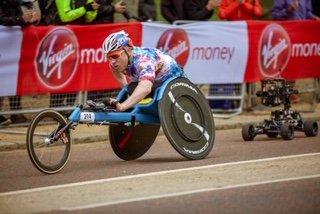 Last year we created a News article on the 2018 London Marathon. Aerial Camera Systems (ACS) were delighted to be invited back again to cover the 2019 London Marathon.
The London Marathon (currently known through sponsorship as the Virgin Money London Marathon is a long-distance running event held in London, United Kingdom, part of the World Marathon Majors. The event was first run on 29 March 1981 and has been held in the spring of every year since. Since 2010, the race has been sponsored by Virgin Money

Wacky costumes, outrageous records, and a rogue race leader in pink shorts - marathons are never short of inspiring stories and this year's event in London was no exception. Close to 43,000 runners took part in the 2019 London Marathon, which this year took place on Sunday 28th April.
The 2019 London Marathon




Tennis champion Sir Andy Murray officially launched the race at 10:10 BST to cheers from crowds gathered around the packed starting line at Blackheath.

With an event as large as this there are too many highlights to list, so here are just a few of them:

Eliud Kipchoge set a course record of 2:02:37 in the men's race - the second-fastest marathon time ever after the record he set in Berlin last year.
Richard Ollington decided to see how long he could keep up with an elite marathon runner. Dressed in eye catching pink shorts, and rubbing shoulders with the elite athletes at the start, he went on to run 25.2 further miles and clock an impressive time of 2:34:09. In the process he clocked a personal best over a mile in his first ever marathon.
Hayley Carruthers, a radiographer who balances her marathon training with her full-time medical career, won over plenty of fans when she collapsed and crawled across the finish line. Her personal best of 2:34:03 was three minutes outside the qualifying time for British women to compete at the world championships in Doha later this year.
It's not unusual for runners to need assistance over the finish line, but Lukas Bates, who ran dressed as Big Ben, encountered a unique problem when the top of his costume wouldn't fit under the finish line.
In a crowded field, Eileen Noble could lay claim to being the most inspirational runner on the day. At 84, she was the marathon's oldest female competitor in the 2019 London Marathon, as she had also been the previous year.

In total, there were 38 world records set at this year's London Marathon -- and some of them are pretty niche. For example, fastest marathon while dressed as a shoe (male)! The Duke of Sussex presented the winners with their awards on the day.




ACS Filming at the London Marathon




Aerial Camera Systems provided our specialist cameras and crews and filming services at the event, including:

100m Ground based track with our aerial unit HD Cineflex V14 following the finishers across the finish line
• 1 x Superloupe with EMG company, DVS – capturing ultra slow motion of the runners reactions
• 1 x SMARThead with P1 at the finish line
• 1 x KartCAM travelling along with the runners.

London Marathon Fundraising

The marathon has raised £1bn since it started in 1981, according to race sponsors

Virgin Money

. The event's Charity of the Year 2019 is

Dementia Revolution

, a partnership between Alzheimer's Society and Alzheimer's Research. Its fundraising target is £3.5 million.




This years London Marathon was another successful fund raising and sporting event. To find out how Aerial Camera Systems can enhance your next filming project, please

contact us

or visit our

website

.