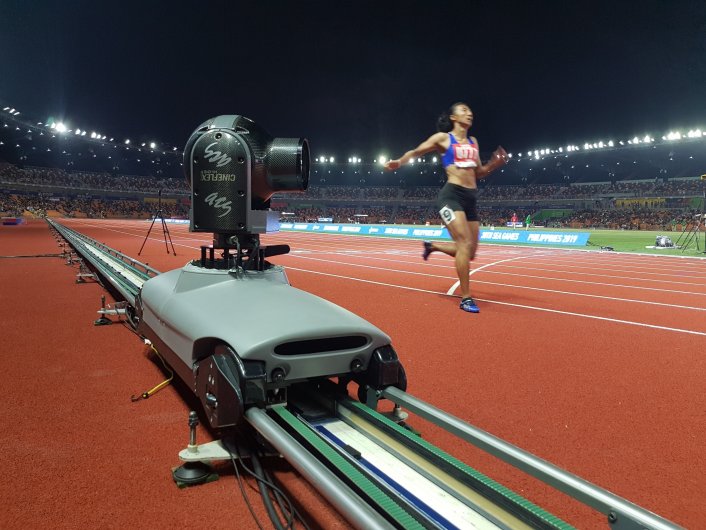 There were performances from
The Black Eyed Peas
,
KO Jones
, and
Journey
, and a special awards ceremony for the best male and female athletes. A drone show then turned the inky black sky into a stunning screen showcasing the different sports contested at the Games. The captivating showcase then culminated in the display of the Games theme: We Win As One.
The South East Asian Games 2019
The 2019
South East Asian Games
(SEA Games), commonly known as Philippines 2019, was the 30th edition of the South East Asian Games, a biennial regional multi-sport event which was hosted by the Philippines from 30 November to 11 December 2019. This was the fourth time that the Philippines hosted the games and its first time since 2005. This edition was most notable for being the first edition to include
e-sports
as well as having the highest number of sports in the history of the games, at 56.
Aerial Camera Systems Filming at the South East Asian Games 2019
Aerial Camera Systems crew and kit were at the Aquatics with:
And the Athletics with:
Highlights of the South East Asian Games 2019
The South East Asian Games 2019 was an entertaining sporting event that brought together the region's best athletes. Individual awards were handed out to the Games' best male and female athletes - Singapore's
Quah Zheng Wen
and Vietnam's
Nguyen Thi Anh Vien
.Both Quah and Nguyen won six golds and two silvers.
The Games saw team Singapore's largest away contingent in history win 53 gold medals. Its medal haul of 53 gold, 46 silver and 68 bronze took its total medal tally to 167 with 51 medals coming from debutants at the Games.
This is the third consecutive SEA Games where Team Singapore has achieved more than 50 gold medals.
As with all major sporting events, there are so many highlights, here are just a few:
Filipino surfer Roger Casugay shocked everyone when he risked his gold medal to save an opponent from drowning.
After Years of Making It to the Finals, Vietnam Finally Wins a Gold in Football
Cambodia Wonderkid Sieng Chanthea Scores Fastest Ever SEA Games Goal - was scored within 18 seconds of the start of the men's football match against Myanmar
Filipino Tennis Player Ruben Gonzales Proposes to Girlfriend After Winning Silver in the men's doubles tennis finals
Esports Makes Historic Debut as an Official Sport in the SEA Games
The next South East Asian Games
At the end of the presentations, the SEA Games flame was extinguished, before the flag was handed over to Vietnam, which will host the 2021 edition of the Games. To find out more about our specialist cameras and crew please
get in touch
or visit our
website
for more information.