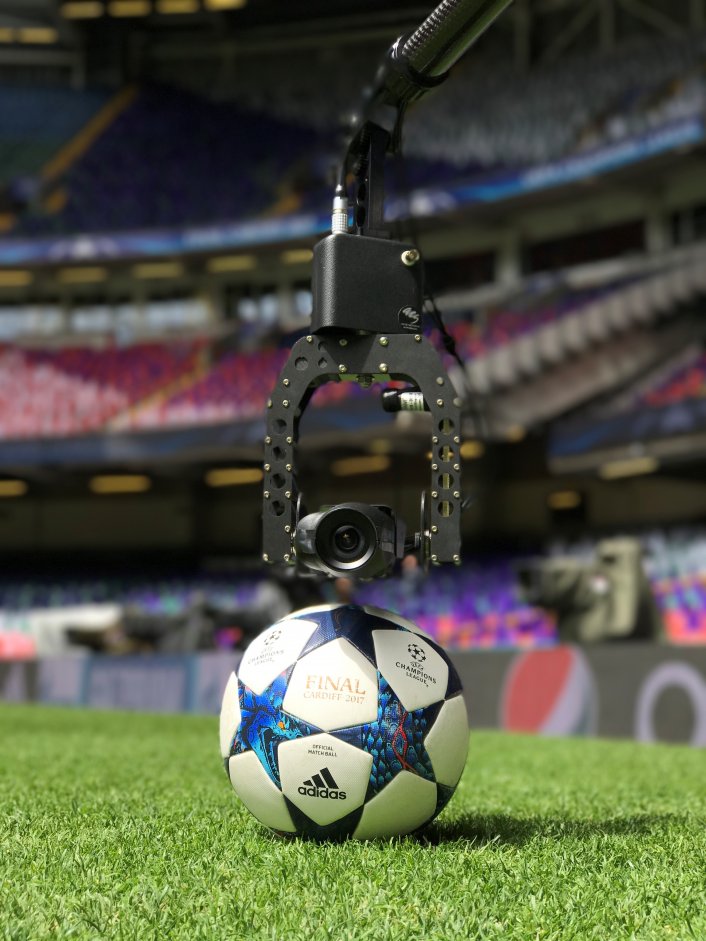 The prestigious Live Event Filming Award has been won by BT Sport for work on the UEFA Champions League Final
Aerial Camera Systems (ACS) are extremely proud of one of our clients winning another prestigious award. BT Sport were recently awarded Outstanding Live Event Achievement at the Sports Video Group (SVG) Sports Production Awards for their coverage of the UEFA Champions League Final this year.
Sport Production Awards
The Awards were hosted by former SVG Europe Chairman and SVP, Media Production at Lagardére Sports, Peter Angell and sponsored by Canon Europe. Kieran Magee, Marketing Director Professional Imaging at Canon Europe, co-presented the Awards on behalf of Canon.
The Awards nominations are open to any company or organisation involved in sports broadcasting. The SVG Europe 2017 Sport Production Award categories this year were:
Outstanding Digital Achievement
Outstanding Technical Achievement
Outstanding Live Event Achievement
Outstanding Contribution to the European Sports Production Community Award .
More details about the criteria for these event filming categories and nominations can be found on the
SVG Europe website
.
Outstanding Live Event Achievement Award
The coveted prize of the Outstanding Live Event Achievement award went to BT Sport for the 2017 UEFA Champions League Final. Held in Cardiff at the Millennium Stadium, BT Sport's work had unprecedented breadth of production coverage across several formats. It included creating a host feed that was available in HD, UHD-HDR, and VR 360.
The Award was accepted by Chief Operating Officer Jamie Hindhaugh and Chief Engineer Andy Beale. As part of their acceptance speech they recognised that part of the success of their work is the strengths of partnerships and the way they engage with the industry.
More information about the Awards and nominations can be found on the
SVG website
.
Sports Video Group (SVG)
ACS is a proud sponsor of
Sports Video Group
(SVG); an organisation which focusses on advancing the creation, production and distribution of sports content and supporting the professional community within it. Fergal Ringrose, the Executive Editor at SVG Europe was delighted with the quality of the entries for this year's awards. He also thanked many members of the European Advisory Board and commented that he looked forward to staging an event better Awards ceremony in 2018!
Continuing support and partnership
At Aerial Camera Systems (ACS) we love it when our clients, partners, or our work are appreciated and commended. If you would like to find out more about some of our own great (award winning) work then please visit our
website
. Alternatively
contact us
for more information out our
4K aerial filming
, our
Inspire 2 drone
or our unique
track systems
.