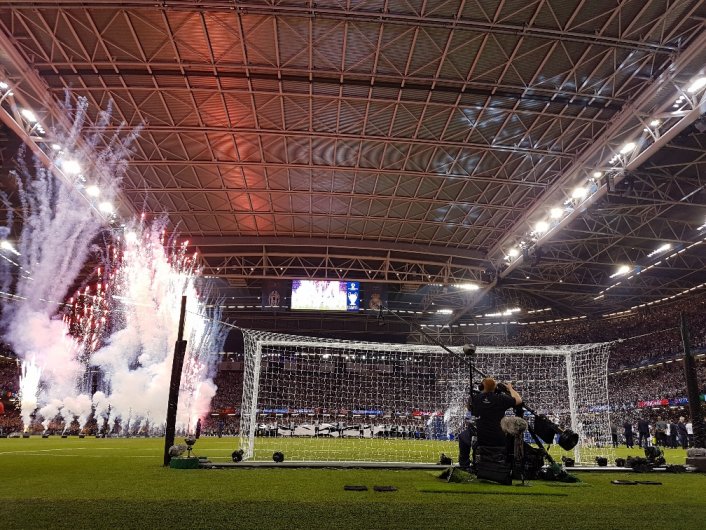 Aerial Camera Systems (ACS) are delighted that our client, BT Sport, won the Innovation Award for Content Everywhere at the IBC Awards last week.

Running since 1967, the IBC Show is "by the industry, for the industry" and is a crucial event in the calendar of broadcast and media professionals worldwide. IBC2017 conference was held 14-18 September with our client
BT Sport
being nominated against tough competition for a prestigious award.
IBC Awards
The IBC Awards celebrate the personalities and the organisations best demonstrating creativity and collaboration. Presented in a lively and fast-moving celebration during IBC, the IBC Awards showcase some of the most exciting and stimulating content from the year.
The nominees in the category for Innovation Award for Content Everywhere were our client BT Sport for Champions League Final 2017, alongside ESL for Global IP contribution/distribution, Google for Google Earth VR and Renfe Viajeros for PlayRenfe.
ACS filming at Champions League Final
Aerial Camera Systems (ACS) was contracted by BT Sport as Host Broadcaster - to exclusively deliver HD and UHD specialist cameras for the Champions League Final in Cardiff on 3rd June 2017.
This included the provision of a 4K broadcast which involved 12 dedicated UHD cameras; 7 of which were provided and operated by ACS. This was a first for ACS and for the event, but our extensive research and development, followed by meticulous planning resulted in a faultless technical delivery by the ACS team onsite, as well as pioneering new ways our specialist cameras can deliver UHD/HDR coverage. Our recent
blog article
, gives more detail about the
live 4K aerials
,
railcams
,
polecams
and
SMARTHeads
™ used for this project.
BT Sport Filming Nomination
The BT Sport filming nomination included a raft of wold first innovations as detailed on the
IBC website
, and below:
47 HD & 25 separate Ultra HD camera's rendered it the largest football OB in history. Thirteen of these were shared including goal rail and polecams, tunnel, internal and external beauties and aerial coverage. BT Sports presentation comprised of a further twelve 4K Camera's and was produced in the immersive audio format Dolby Atmos.
BT Sport 2 was made available free to air in SD & HD on all UK TV platforms as well as bt.com and the BT Sport App on Android and iOS. To further the reach BT partnered with social media platform YouTube to offer the match free in 4K.
BT sport produced a ground-breaking 12 camera live 4K VR 360 programme with AR graphics, replays and commentary and delivered it via a dedicated app and YouTube.
BT Sport also produced the entire show in Ultra HD HDR with Rec 2020 Wide Colour Gamut in both PQ & HLG and with Dolby Atmos to both BTTV set top boxes and the Ray Dolby Theatre in Soho.
The Innovation Award for Content Everywhere was won by BT Sport.
BT Sport were awarded the Innovation Award for Content Everywhere. Chief Operating Officer Jamie Hindhaugh said: "We are absolutely delighted to win this coveted award, our huge thanks to IBC and the judges for recognising the incredible effort and game changing innovation that BT Sport and our partners delivered at this year's UEFA Champions League final in Cardiff.
"We are very proud that our unique partnership approach allows us to consistently drive high quality technical and editorial innovation that is aligned with our strategic vision to be at the heart of sport.
"We extend our gratitude and congratulations to all of our partners with whom we share this award. The Champions League final is the pinnacle of domestic football and UEFA are an amazing rights holder to work with and so, of course, our thanks go to them for all their support."
Aerial Camera Systems (ACS) have enjoyed working with BT Sport and would like to congratulate them on their well deserved award.