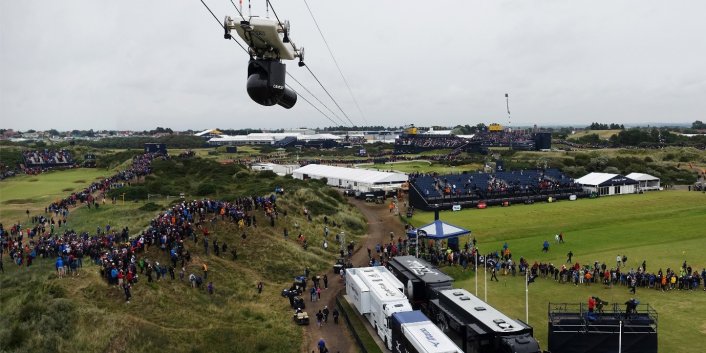 Royal Birkdale recently hosted The Open for the tenth time, welcoming the world's greatest golfers to one of the sport's most renowned and challenging venues. Aerial Camera Systems (ACS) were there with our SMARTHeads™, railcams, wire system and bunkercam to capture the golf action on camera.
The 146th Open Royal Birkdale ran from 16th - 23rd July 2017. This year's attendance surpassed the 230,000 mark set at Royal Liverpool in 2006, making it the largest ever Championship held in England and reflects a 17% increase since The Open last visited Royal Birkdale in 2008.


In an exciting golf tournament, Jordan Spieth managed victory against Matt Kuchar to win 2017 British Open, his third major championship. With the victory, he joined Jack Nicklaus as the only golfers to win three legs of the Grand Slam prior to turning 24.

There were more than 50 hours of live filming coverage throughout the week on Sky Sports, showing the opening tee-shot at 6.35am on Thursday all the way through to the final putt on Sunday evening.

This year the ACS bunkercams were used for filming golf on six holes on the course as well as three bunkers on the practice range (used by The Golf Channel) and an additional bunker that was constructed for Sky Sports near its Open Zone set. The bunkercams have become an interesting talking point and viewers now expect to see this shot when switching on coverage. Thanks to the number of bunkercams on the course there was several shots showing the competitors playing their way out of the bunkers. Have a look at one of the Aerial Camera Systems (ACS) bunker cam shots here, for an example of some of our filming golf at The Open.
Working closely with CTV Outside Broadcasts and clients, European Tour Productions and The Golf Channel, Aerial Camera Systems (ACS) had 24 cameras in use this year. The provision included the 10 bunker cams, five railcams. SMARThead™ remote heads and a Colibri Wirecam which delivered spectacular shots of the course from overhead.
The ACS Aerial Unit were also kept busy in the run up to the event with one shoot involving our new Inspire 2 Drone filming aerials of a Beach golf challenge between Jamie Carragher and Tony Bellew for Sky Sports. Another helicopter was shooting filming aerials of each of the holes on the course that allowed Sky Sports analysts to talk the viewers through the course.

David Whitlock, Operations Director at Aerial Camera Systems (ACS) talks about our involvement in the filming of golf at The Open and some of the technology used – read the full article where he talks about the success of bunkercams here. Alternatively visit our website for more information about our extensive range of aerial cameras and our highly experienced camera crews.