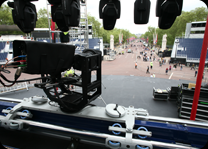 Following on from the successful coverage of commemorative services and events including last year's Royal Wedding, ACS was chosen by BBC Events to help provide specialist camera facilities for the Jubilee with planning beginning late last year. Included within this delivery, ACS supplied and operated eight SMARThead™ remote head camera systems on board the Royal Barge at the Jubilee River Pageant.
The BBC Events production team conceived the idea at an early stage of providing extensive coverage on board the Royal Barge using solely remote cameras in preference to manned and PSC style cameras. As a result, eight ACS SMARThead™ remote pan and tilt heads were installed equipped with Ikegami HDL51 'brick style' 2/3 HD broadcast quality cameras. Six were fitted with Canon HJ14 lenses and the remaining two with Canon HJ22s. The cameras offered shots of Her Majesty the Queen and the Royal Party on board as well as giving their POV of this unique flotilla.
Along with this provision on the Royal Barge ACS also supplied a further SMARThead™ with P1 camera channel rigged to Tower Bridge, offering a unique shot of the flotilla passing through. Travelling within the Pageant was an HD Gyron 935 Plus stabilised mount rigged and operated from one of the one thousand boats that took part, again offering a unique perspective of the flotilla as it made its way down the Thames.
Not far from this celebration other ACS crew supplied and operated three HD Cineflex V14 stabilised mounts rigged to hoists for coverage of the Concert at the Palace and the Royal Procession on the Tuesday, placed at Canada Gate, Hyde Park and The Mall. Our ACS Tracks department also operated a Railcam at the back of the stage for the concert.
The Tuesday saw a further ACS team supply five ACS SMARTheads™ for the coverage of the service at St Paul's and other crew rigging these discreet remotes at The Palace of Westminster and Whitehall making a total of over twenty different ACS specialist cameras supplied to capture this historic event.
ACS Managing Director Phillip Becket commented: "2012 is turning into a year of exceptional large scale deliveries for ACS. Everyone from our specialist camera operators to our engineering department have worked tirelessly to deliver incredible results during a very busy time for the company and I for one am extremely proud of the team and what they've achieved on this project."
For further information please contact Antonia at news@acsmedia.com