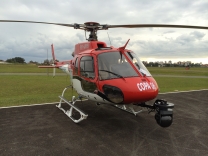 ACS are pleased to announce the successful delivery of all aerial coverage for this year's FIFA World Cup in Brazil.  7 helicopters fitted with HD Cineflex V14 camera systems and HD RF down links flew over 500 flying hours throughout the period.  The 7 Cineflex operators and 28 pilots were supported by a dedicated ACS aerial coordination and project management team with ground support staff based throughout Brazil.  Helisul, Brazil's largest commercial helicopter operator was chosen by ACS to supply all helicopters with Broadcast RF delivering all RF.  Crew were positioned at all twelve host cities, from Manaus in the Amazon Basin in the north to the sub-tropical climate of Porto Alegre in the South to ensure clear pictures, to be beamed to a global audience, were received at every stadium.
The final in Rio saw the deployment of 2 helicopter camera ships delivering stunning aerial coverage of Rio de Janiero and the game between Germany and Argentina.
During this delivery ACS crews in the UK were busy with the delivery of our specialist kit at the Wimbledon Championships, Roland Garros, BBC's Springwatch, Heineken Cup Final, Epsom Derby, Queen's Tennis Championships, Trooping the Colour and Royal Ascot amongst others.
For further information please contact Antonia at news@acsmedia.com