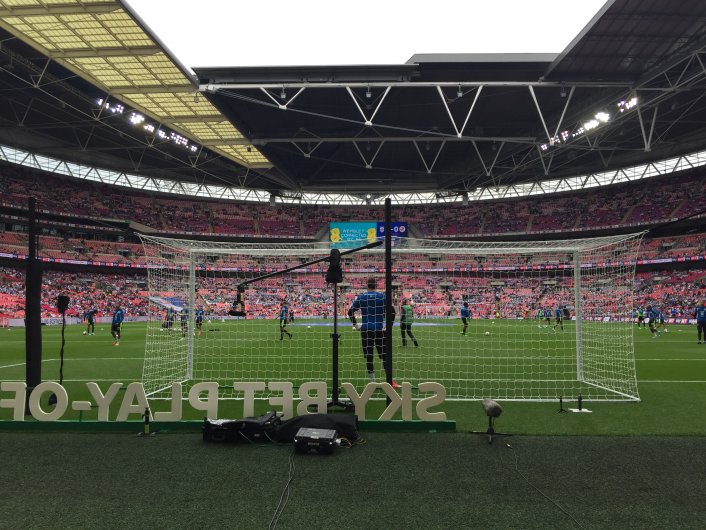 Aerial Camera Systems (ACS) have a huge range of highly specialist camera systems that are available for rental with our specialist crew: from high performance compact robotic heads to minicams, stabilised mounts, railcams, wirecams, tracking vehicles, aerial drones, aerial filming co-ordination services and the unique sponsor funded tethered blimp, known as the EyeFlyer. New to our inventory of specialist cameras is the in-house designed SMARTgrip™.
SMARTgrip™ compact robotic camera system

SMARTgrip™ is a compact robotic camera system which adds an extra dimension of movement to our widely acclaimed SMARThead™ product series.
This new innovation consists of a SMARThead™ remote head fitted with a balanced carbon fibre arm and mini robotic head with Antelope PICO mini camera to provide a smooth, jib like fully remote controlled camera movement within a small footprint. Fitted to the SMARTgrip™, the Antelope PICO high frame rate and simultaneous live camera is designed to offer spectacular ultra slow motion and previously unrevealed details from vantage points where no other camera has gone before.
The SMARTgrip™ uses existing SMARThead™ support stands, ensuring a minimum footprint/profile and discrete operation behind areas such as football goals as well as other production applications.
Aerial Camera Systems Design & Development
SMARTgrip™ is another great product that has been designed and developed by ACS' in-house research and development team. The products we produce are born out of conversations and requests from our clients to develop innovative ways in which to cover events and obtain new camera angles. The
SMARThead™ remote head
was another product that was developed from such requests and has enjoyed a great deal of success in its application in sport, live state events and light entertainment shows.
ACS for all your specialist filming requirements
ACS continue to provide experienced personnel and specialist cameras to many of the world's national and international sporting events; from the Olympics to football, horse racing, tennis and athletics amongst others. Winning BAFTAs and EMMYs for our contribution to televised events, we're also actively involved in critically acclaimed films, award winning commercials as well as documentaries, entertainment, music and live events. If you'd like to find out more about the SMARTgrip™ or any of the ACS cameras or filming services then please get in touch
https://www.aerialcamerasystems.com
.