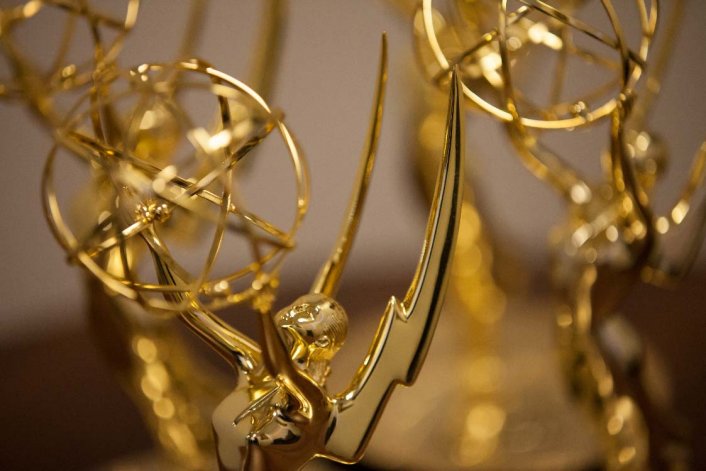 The National Academy of Television Arts & Sciences
(NATAS) announced winners of the 38th Annual Sports Emmy® Awards at a special ceremony at Jazz at Lincoln Center's Frederick P. Rose Hall in New York City. The
Aerial Camera Systems
(ACS) crew won EMMY awards as part of their involvement in the delivery of NBC's award winning coverage of the Rio Olympics, in the category Outstanding Technical Team Remote.
NATAS is a professional service organisation dedicated to the advancement of the arts and sciences of television.
The Sports Emmy® Awards
recognise outstanding achievement in sports television coverage and as an incentive for its continued pursuit.
ACS Award for Outstanding Technical Team Remote
NBC Sports Group
won nine Sports Emmy® Awards for excellence in sports television production, highlighted by four awards for its coverage of the Games of the XXXI Olympiad from Rio De Janeiro, Brazil.
ACS crew spent a month out in Rio, rigging and operating our in-house designed
SMARTheads™
on the Diving, Swimming, Golf and Beach Volleyball as well the Opening Ceremony and Athletics in the main stadium. One SMARThead™ was also deployed as a Beautycam and controlled from the IBC. ACS created bespoke mounting solutions for many of the remote heads and rigged in some challenging positions including the roof of the main stadium for the Opening Ceremony. Access to this position involved walking across the canvas roof of the stadium similar to walking on a giant trampoline, as one crew member described it.
Our
SMARThead3s
were deployed at the Golf. This adaption of our acclaimed SMARThead™ remote head was created to fulfil the growing demand for a compact remote head system capable of handling a much wider range of camera and lens combinations. For ACS' provision to NBC these three SMARThead3s were fitted with XJ100x lenses.
David Manton, multiple EMMY award winner and Head of
ACS' Aerial Unit
, was on hand to provide NBC's aerial coverage. Aerials were shot using
ACS' Cineflex Ultra
and included a number of aerial shoots in the run up to the Games commencing as well as during the Games itself.
Aerial Camera Systems (ACS) enjoy a long standing history of working with NBC on their Olympic coverage and are very proud of our crew's achievements in contributing to NBC's award winning programmes.
The 38th Annual Sports Emmy® Awards
At the Sports Emmy® Awards winners were announced in 41 categories including Outstanding Live Sports Special, Live Sports Series and Playoff Coverage, three Documentary categories, Outstanding New Media, Outstanding Play-by-Play Announcer and Studio Host, among others. The awards recognise outstanding achievement by individuals and programmes broadcast throughout the 2016 calendar year.