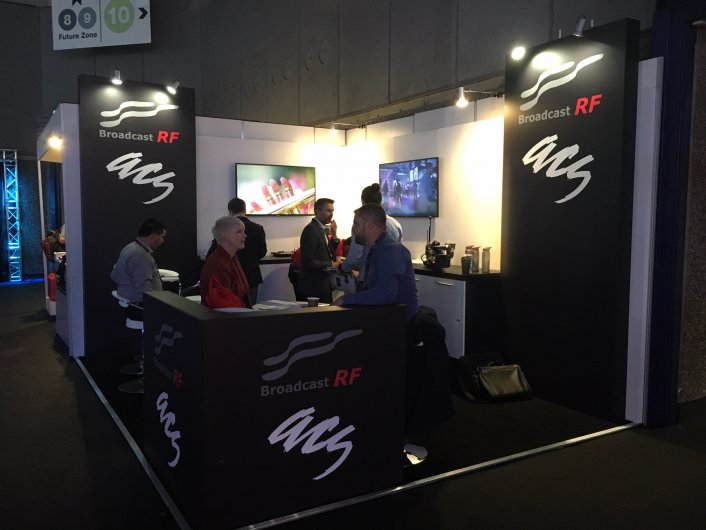 Aerial Camera Systems (ACS) have just returned from exhibiting with sister company, Broadcast RF, at IBC (International Broadcasting Convention) in Amsterdam.
The IBC is the world's most influential media, entertainment and technology event. We had a great show meeting a host of people during the event. Whether creative, technical, old or new – IBC is a chance to explore the latest insights and innovation across the industry and to make and see friends.
The International Broadcasting Convention (IBC 2018)
The International Broadcasting Convention (IBC 2018)
is the "leading global tradeshow for professionals engaged in the creation, management and delivery of broadcasting media and entertainment". The annual event, held every September, is really great for understanding the industry and its future – it's the best event for the very latest developments in broadcasting, mobile TV, IPTV, digital signage.
IBC grew in scope this year with visitor numbers confirmed at 55,884 across the event. Not only did visitors increase but so did the conference delegates (up by 14% this year). More importantly one of the biggest growth figures lies in the diversity of its content, with a targeted effort increasing female speakers at the conference up from 14% to 37%.
"All of the initiatives this year have been aimed at bringing together the best minds, the original thinkers, to network and share their knowledge. As all communication becomes video and audio, IBC continues to be the place to debate the future of media, technology and entertainment." Michael Crimp, IBC.
Having the stand for the first time at IBC was a great success for Aerial Camera Systems (ACS). We'll be back next year!