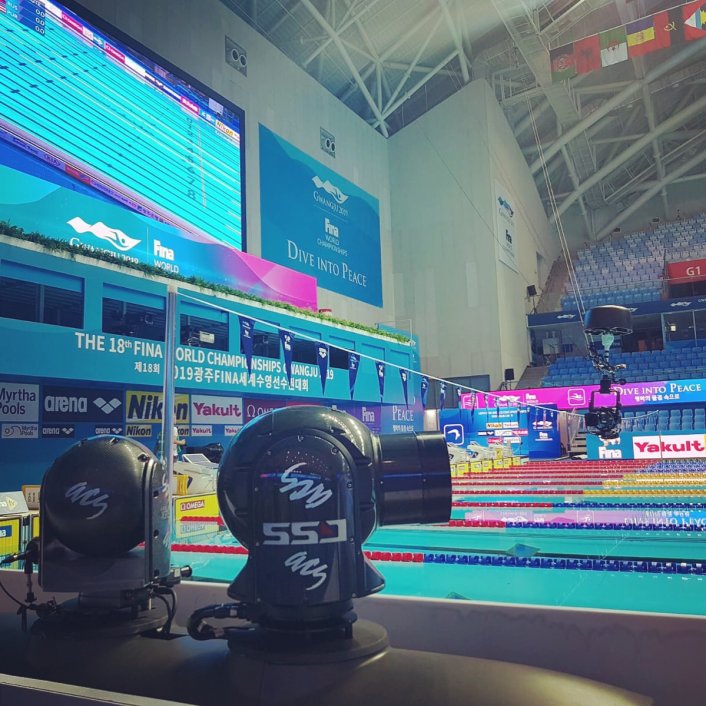 This year was the 18th edition of the FINA World Championships and saw World titles contested across all of the aquatic disciplines. Out of 209 FINA members, 192 took part, which set a new record for the number of participating nations. Great Britain managed to take home a total of 12 medals.
FINA World Championships
The 2019 World Championships were held in
Gwangju
, South Korea from 12 to 28 July 2019. Gwangju has hosted the 2015 Summer Universiade aquatics events in the same venues.
There were a total of 76 Medal events held across six disciplines: swimming, open water swimming, artistic swimming, diving, high diving and water polo. Beach water polo was introduced as a non-medal event. The Championships saw some great
results
including Great Britain achieving 12 medals – 4 gold, 2 silver and 6 bronze.
Specialist Cameras and Camera Crews
Aerial Camera Systems took a crew of 22 specialists to the FINA World Championships.
There was a whole host of our specialist camera equipment for filming the Championships, including:
50m Pooldeck track (link to ground tracks) with HD Cineflex V14 mount on the swimming
Underwater Polecam on Swimming & Diving events
25m pooldeck track (link to ground tracks) with HD Cineflex V14 mount on the Artistic swimming
Underwater polecam on Artistic Swimming
Underwater polecam on High Diving
Polecam on the Open Water competition
Underwater remote cameras covering the Water Polo, High Diving and Artistic Swimming
In goal mini cameras on the Water Polo
2 x Robycam 3D cablecams covering the Swimming, Diving and Artistic Swimming events.
For further information on any of the kit supplied please
get in touch
, or visit our
website
to find out how our specialist cameras and crews can enhance your next production.