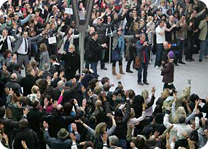 This month our crew found themselves working alongside the flashmob at Heathrow's Terminal 5 for the new T Mobile advert.
Passengers walking into the arrivals hall were greeted by a crowd of over 500 people which included waiting public, cabin crew, T-Mobile staff spontaneously bursting into synchronised song and dance. Using our in-house designed SMARTheads™ with Sony 1500 cameras providing a filmic look by shooting 1080 25P, the remote heads were hidden within the terminal to capture the reaction of the returning travellers.
Filmed, edited and broadcast within 36 hours, the advert was premiered on Friday 29th October with a full length 3 minute version screened across more than 80 digital and terrestrial commercial TV channels; a world's first.
Click here to see the full length advert.
For further information contact Antonia at news@acsmedia.com