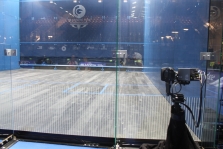 As ACS' largest aerial project to date was finishing at the World Cup in Brazil, preparations were underway for the year's major delivery of specialist cameras for Commonwealth Games' host broadcaster SVGTV.
Remote head, tracks and aerial crews all travelled to Glasgow to contribute in the delivery of SVGTV's coverage of the 20th Games.  ACS kit could be found across most venues and if it wasn't on the ground it was in the air supplying aerial filming of the Games including the Opening and Closing Ceremony.
As the two AS355 twin engine helicopter fitted with HD Cineflex V14 stabilised mounts followed overhead, two specially adapted tracking vehicles also fitted with Cineflex mounts followed by road for the Marathon coverage.  Capturing the Glasgow scenery were four beautycam systems positioned across the city, 3 RF linked to the IBC and 1 via direct fibre link.
For the Aquatics coverage crews delivered a 60m overhead track and 50m pooldeck track fitted with HD Cineflex V14 stabilised mounts.  Under the water kit included a Mobycam underwater railcam system, underwater remotes and Divecam.  The ACS SMARThead™ remote heads could also be found positioned at the top of the diving boards capturing the athlete's preparations before diving.
A further 24 SMARTheads™ were positioned at the athletics (1), gymnastics (7), squash (2), Boxing (1), Judo & Wrestling (1) and table tennis (1), with the remaining 11 heads used at the Shooting as part of fellow Euro Media Group company, Videohouse', provision for SVGTV.
Hampden Park saw the 100m ACS tracking camera keeping up with the track athletes to provide those travelling shots to the finish while the 7m vertical captured the high jumpers and 8 minicam systems helped to provide referral facilities for the IAAF as well as shots for broadcast.
The final track system was one of ACS' more lightweight, shorter tracks fitted with a SMARThead™ remote head and camera.  30m in length it offered dynamic tracking shots of the gymnasts as they competed in all disciplines.
ACS operating vehicles were also supplied to house crews at various venues.   Over 40 ACS crew took part in the delivery headed up by a dedicated project manager and support engineer.
Speaking after the Games ACS Managing Director, Philip Beckett, commented, 'The Commonwealth Games is another example of ACS' capacity to handle large projects of this nature across a number of different camera provisions whilst continuing to deliver our ongoing commitments to other clients