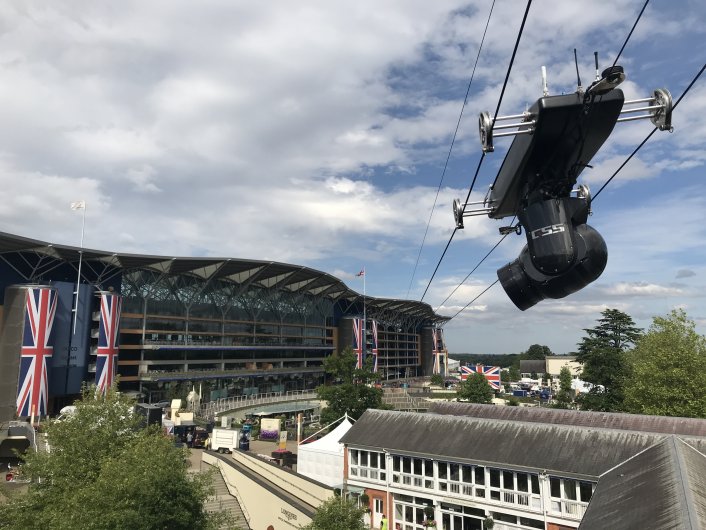 Aerial Camera Systems
(ACS) design and supply a huge range of specialist cameras. We were proud to be one of the first operators to take delivery of the latest
Cineflex Pro
from
GSS
, which has been the most recent addition to our
Aerial Unit
.
Aerial Unit
The ACS dedicated award-winning
Aerial Unit
co-ordinates and films aerial projects world-wide. Our unit has a large inventory of specialist cameras, including:
The Aerial Camera Systems Cineflex Pro
The
Cineflex Pro
is a latest generation advanced stabilised gimbal designed for use with 'brick style' UHD broadcast cameras and ENG 2/3" lens type payloads. Fitted with the new Sony HDC P50 camera and Canon CJ45 lens as standard, it offers a range of format options including UHD, HDR and HD simultaneous live and HFR SSM outputs.
The system is ideal to use on lightweight wire systems such as the
Colibri
from CAMCAT due to its small size and weight. In addition, it can be rigged to a range of helicopters, the ACS
EyeFlyer
Blimp,
tracking vehicles
and our extensive inventory of
railcam systems
.
.
The
Cineflex Pro
has a swappable lens payload to enable the use of a wide angle lens (Canon CJ12) and further options include the GSS Internal Navigation System (INS) which can provide live GPS/ Positional Data for VR/AR applications, wireless data control and a custom Quad 4G SMPTE based fibre transmission system for fully cabled applications e.g. railcam or hoist use.
The Cineflex Pro has no
ITAR
or
EAR
export restrictions and is future proofed with full upgrade capability as gimbal, camera and lens technologies evolve. The full technical specification can be found
here
. This hugely flexible and innovative camera has been used on projects such as Royal Ascot, Wimbledon Championships and the World Athletics Championships in Doha.
Aerial Camera Systems World-wide filming
ACS' longstanding history within the aerial filming world continues to grow and our dedicated in-house
aerial unit
co-ordinates and films aerial projects world-wide. Our UAV team hold a
PfCO
(Permit for Commerical Operations) from the
Civil Aviation Authority
(CAA), this enables them to react quickly and fly our at short notice for any shoot day or night, requiring no flying permissions in most areas.
Having conducted shoots in over 70 countries, our highly skilled operation team are acknowledged experts in their profession and our camera crew critically acclaimed, winning over 13 Primetime
EMMYs
and a
BAFTA
Craft award between them.
The Aerial Camera Systems work has included:
• FIFA Women's World Cup 2019
• FIFA World Cup, Russia 2018
• Rio Olympics 2016
• Tour of Dubai
• London Olympics 2012
• Oxford v Cambridge Boat Race
Having worked on prestigious projects such as these, we can assure our clients receive the highest quality specialist cameras and crew for their filming projects to achieve the best results possible. The ACS
Cineflex Pro
is just one of the specialist cameras in our large inventory that we can use to achieve spectacular results. Please
get in touch
or browse our
website
to find out more.