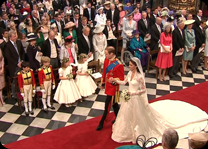 It's been another exciting, hard working and successful week for all those at ACS none more so than for our team of technicians and operators who worked on the Royal Wedding.
ACS provided over twenty SMARThead™ remote head systems and camera channels supplying coverage for the BBC, Sky News and ITN, not forgetting the world's media. An HD Cineflex V14 Stabilised Mount was also supplied and operated by ACS providing aerial coverage of the crowds and balcony scenes at Buckingham Palace. But it was perhaps within Westminster Abbey itself that our crew met their biggest challenge fulfilling the majority of the camera positions that were to broadcast the ceremony world-wide.
ACS Technical Director, Sam Heaphy, and his team delivered and installed 16 of the 23 camera positions within the Abbey for the BBC.   Utilising 12 Sony P1 Camera channels and 4 Ikegami HDL 51 cameras, two of the remote heads included a 40x lens; a first for ACS' new development with this particular lens and SMARThead™.
Several spectacular shots were achieved including a dramatic high shot over the Sacrarium for the first time in HD and with the shot developing to show the incredible scale of the internal architecture of Westminster Abbey. Two cameras were also discretely positioned in very sensitive areas to the side of the high altar in order to show the couple from the front during the very intimate and important parts of the wedding service. Shots of the Abbey's bells peeling at the conclusion of the ceremony were also a first.
ACS SMARTheads™ could also be found positioned along the wedding procession route at Parliament Square, Whitehall, Horseguards and The Mall contributing to the full coverage of the couple's journey to and from the service.
SMARThead™ had been chosen by BBC Events for the Abbey because of its small size whilst offering 2/3 in full HD quality and single cable operation, an important consideration when working in such a venue. The quality of control allowing full use of the lenses zoom range from Canon HJ40 to HJ14 with total subtlety of movement were vital to this type of production. This technology is coupled to many years of continually developing the client relationship and the results have clearly won universal appreciation.
ACS Managing Director, Phillip Beckett, commented, "The team here feel an enormous sense of pride at being involved in such an historical event. Everyone has worked really hard in the planning and delivery which began at the end of last year. We're honoured to be able to say, ACS were there."
For further information please contact Antonia at news@acsmedia.com