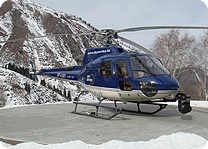 A large team of personnel from ACS have recently returned from a successful Winter Asian Games where they were responsible for delivering one of the largest and diverse projects to date for the company. The 7th Asian Winter Games was held in Kazakhstan and ACS was chosen by host broadcaster International Games Broadcasting Services (IGBS) to exclusively provide specialist camera facilities for all venues in and around the city of Almaty.
With over 30 ACS crew including camera operators, the specialist cameras included 100m railcam, Wirecam, Steadicams, Jimmy Jibs, Hi-Mo cameras, Polecam, Minicams as well as the ACS Tethered Blimp covering a range of sports from Cross Country, Biathlon, Alpine and Freestyle Skiing to Ski Jumping, Bandy and Ice Hockey. Five of ACS' HD Cineflex V14 stabilised mounts were part of the provision along with ACS' in-house designed remote heads, SMARThead™. Coverage also included over thirty hours of helicopter aerials with ACS' Emmy award winning camera operator, David Manton.
In addition to providing for this large scale project ACS also supplied railcam and wirecam systems for host broadcaster, Gearhouse for the 25th Winter Universiade Games in Turkey which were held during the same period. As well as delivering on two large projects ACS crews were also operating specialist cameras for the Six Nations and Premiership Football along with international filming projects in Iceland and Antarctica and on location for the latest Sherlock Holmes film from Guy Ritchie.
For further information contact Antonia at news@acsmedia.com