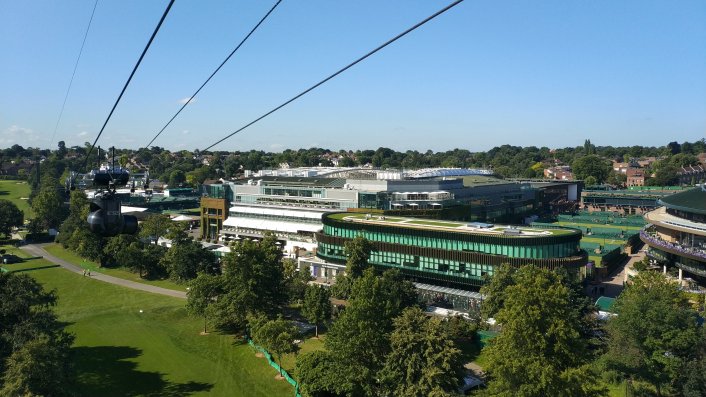 As another year of exciting tennis has drawn to a close,
Aerial Camera Systems
(ACS) took some time to reflect on the highlights of the competition, along with our involvement in the event.
Last year's Wimbledon was the first time that the host broadcast coverage was bought in-house, with Wimbledon Broadcast Services (WBS) delivering multi camera coverage across all 18 courts, and ACS providing its specialist cameras and crew. In its second year, WBS looked to expand and enhance its provision.
The big news in television coverage from Wimbledon this year was the addition of the
wirecam
which received really positive feedback from the broadcasters. Our brand new Cineflex Pro stabilized mount (making its second outing direct from Royal Ascot) travelled across a 380m stretch of wire in between two 33m towers and delivered tracking shots of the club, setting the scene for the viewer.
In addition to this Aerial Camera Systems supplied all specialist cameras for the Championships to WBS for 2019. For the second year, coverage of Centre Court was in UHD however this year we had our new
Sony HDC-P50s
covering the action on our
SMARThead™
remote heads.
Other new additions included minicams on the Umpire's chairs on Centre Court and No.1 Court as well an additional beautycam to the eight that were already on site.
Railcams
were on Centre Court and No. 1 Court,
SMARThead™
remote heads in Centre and No1 Court as well as Courts 2, 3, 8, 14, 15, 16 and 17. Three SMARTheads™ followed the athletes practicing at the Aorangi Practice Courts. Three SMARTheads™ and seven minicams delivered coverage in the Press Room. A SMARThead™ 3 with box lens delivered UHD coverage of the crowds and action on the outside courts, one 24m UHD railcam and a 36m HD railcam offered tracking shots of all the fans and the action as did the Cineflex Pro+ stabilized mount fitted with the Grass Valley LDX C86N camera that was rigged to the hoist sitting 72m above the courts.
With a total of 53 crew the Championships represented a significant delivery to ACS. During this time, additional crew were working on the Women's World Cup and prepping kit for rigging at the World Swimming Championships in Korea and The Open at Portrush. It's a busy Summer!
About the Championships
There were so many highlights over the two weeks of tennis, but here are just a few:


Wimbledon's youngest qualifier
This year saw the youngest-ever qualifier – 15 year old
Cori Gauff
face Venus Williams, 39, in the first round. After her shocking 6-4, 6-4 first-round victory against Williams, Gauff beat Magdalena Rybarikova in a 6-3, 6-3 victory. For her third-round match, Gauff hit Centre Court where she played against Polona Hercog, beating the 60th-ranked tennis star. On July 8, competing against Simona Halep in the fourth round, Gauff lost the game to Hercog, who came out on top.
Wimbledon Ladies Singles final
Simona Halep
defeated
Serena Williams
in the final, 6–2, 6–2 to win the Ladies' Singles tennis title. It took just 56 minutes for Halep to secure victory where she committed only 3 unforced errors, the fewest on record in a Grand Slam tournament final. In the entire tournament, she dropped only one set against compatriot
Mihaela Buzamescu
. Williams was attempting to equal
Margaret Court'
s all time record of 24 Grand Slam singles titles for the third time.
Wimbledon Mens Singles final
Novak Djokovic
was the defending champion and successfully defended his title, defeating
Roger Federer
in 4 hours and 57 minutes, the longest singles final in Wimbledon history. Djokovic became the first man since
Bob Falkenburg
in the 1948 Wimbledon Championships to win the title after being championship points down, having saved 2 when down 7−8 in the fifth set. This is also the first time since the 200 French Open that a man has saved championship points in order to win a Grand Slam title, and the first time that any singles player, male or female, has saved a championship point to win a Grand Slam title since 2005 Wimbledon.
Wimbledon tie break rule
This was the first Wimbledon where a final set tie break rule was introduced. Upon reaching 12–12 in the fifth set, a classic tie break would be played. The men's singles final was the first final, as well as the first singles match, in which the new rule came into effect, with Djokovic winning the tiebreak 7−3.
Wimbledon tennis fortnight always promises the usual spread of incredible tennis, dramatic rivalries, funny fan moments and Great British spirit. This year was no exception, and the Aerial Camera Systems specialist cameras and crews were there to film it all.
Aerial Camera Systems supply and operate specialist camera equipment to capture international events and shoots from around the world. Why not get in touch to find out more about our inventory of facilities available for rental. This includes high performance compact robotic heads to
minicams
, stabilised mounts,
aerial drones
,
railcams
,
wirecams
,
tracking vehicles
,
aerial filming
coordination services and the unique sponsor funded
EyeFlyer blimp
.