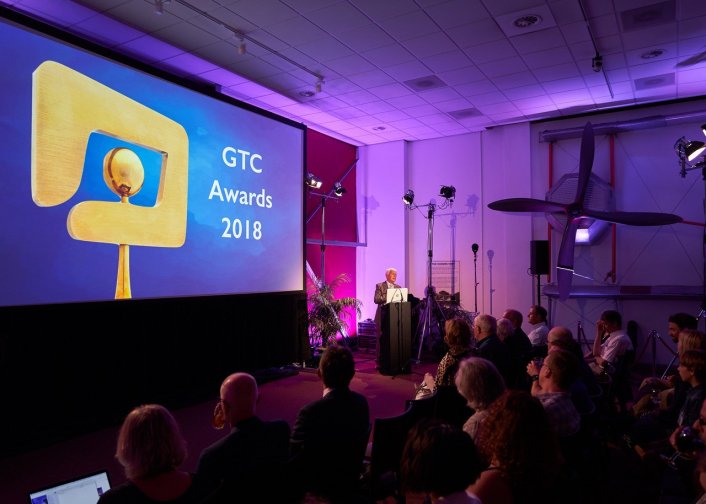 Nick Murray has recently been given an award for 'Outstanding Contribution' by the Guild of Television Camera Professionals (GTC). The ceremony took place at the Annual General Meeting and Awards Day held on 3rd June. For the first time, the Awards Day was held at Brooklands Museum, currently a nominee for Museum of the Year 2018.
Outstanding Contribution Award
This is the first time this award has been presented by the GTC. Recipients are nominated by GTC members. Unfortunately, Nick was unable to attend the ceremony, so his 'Outstanding Contribution' award was collected by Paul 'Biff' Baldwin who works alongside Nick, operating the camera mounted to the
ACS Tracking Vehicle
. Nick was awarded 'Outstanding Contribution' for his work on the
ACS Tracking Vehicle
delivering coverage of the action for
ITV Racing
including Royal Ascot, The Grand National and Cheltenham Gold Cup.
Nick's ability during the racing to check his position via the wing mirror, take note of the shot on the dashboard monitor and assess the track conditions is a credit to his professionalism and dedication. He is definitely one of the unsung heroes of the crew.
In addition to operating the
ACS Tracking Vehicles
, Nick also manages the delivery and installation of all of ACS' specialist cameras for ITV Racing.
The Guild of Television Camera Professionals
Other Filming Awards
In addition to this great award for Nick, ITV Racing were the recipients of this year's BAFTA for Best Sports Programme for The Grand National, which our ACS specialist cameras were also heavily involved in – you can read more about that in our
news article
. The full
nominations list
included some stiff competition - ITV can been seen collecting the award
here
.
The Aerial Camera Systems specialist cameras and crews continued to be recognised and awarded for our expertise and great results. If you'd like to find out more about how we can help with your next filming project, then please
get in touch
or have a look at our
website
to find out more about our services. We supply and operate specialist camera equipment to capture international events and shoots from around the world.