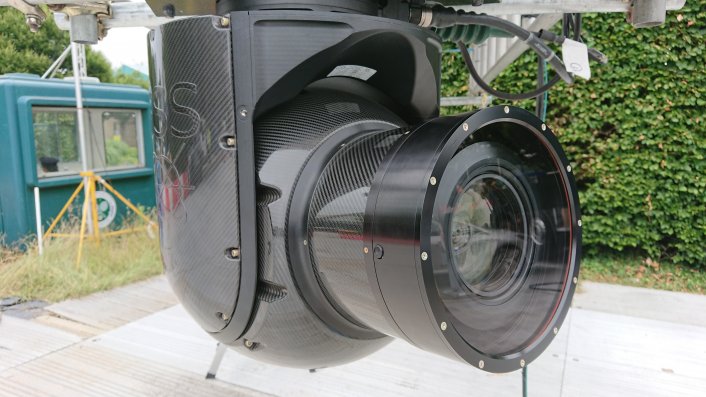 ACS receive the first Cineflex Pro +
Aerial Camera Systems
(ACS) have become the first customer for the brand new Cineflex Pro + gimbal. This new addition to ACS' specialist cameras inventory is currently making its debut at the
Wimbledon Championships
delivering the iconic 'aerial' hoist shots of the All England Club in UHD/HDR for the first time.
Following this it'll be used on one of the ACS
ground tracks
at a major European sports event in August to deliver tracking shots in simultaneous live and HFR (SSM) output, highlighting the versatility of the system in a range of applications.
The system is fitted with the Grass Valley LDX-C86N Compact Camera and Canon CJ45 lens. The lens is the first of its kind in Europe. This new acquisition joins ACS' family of high performance stabilised gimbals which include
Cineflex
and
Shotover F1
systems.
Operations Director, Dave Whitlock, commented 'We're delighted to add the Cineflex Pro + to our inventory of stabilised gimbals. We've made some significant investments in equipment this year, recognising the growing demand for 4K UHD formats. These include Sony HDC- P43 cameras to complement our
SMARThead™
remote head packages, first used for the coverage of the Royal Wedding in May and currently at Wimbledon for Centre Court UHD/HDR coverage. These strategic purchases mean that ACS are now able to offer our customers the option of 4K UHD delivery in the majority of our specialist cameras.'
ACS are delighted to receive the first Cineflex Pro + and we are sure it will be a great addition to our inventory of specialist cameras.