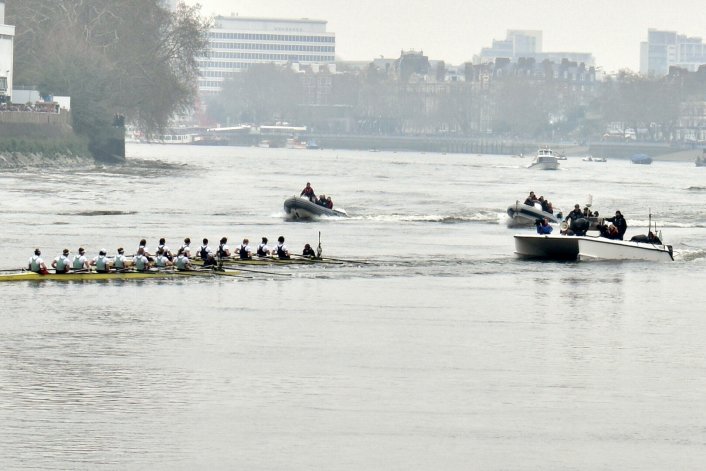 "Where greatness meets" is the slogan for the Oxford Cambridge annual boat race. This year saw Cambridge win the 165th Mens Boat Race and achieve a clean sweep in the 2019 series, with a two time Olympic champion on board; the oldest rower in the Race's history.
Sunday 7th April 2019 saw Aerial Camera Systems (ACS) attending the Boat Race. Our specialist cameras and crews were there to capture the excitement, rivalry, and of course the glory of the winning team.
The Oxford Cambridge Boat Race
The Boat Race
is a rowing contest between crews from Oxford and Cambridge University Boat Clubs which has been held annually since 1829.
The race takes place on the 4.2-mile (6.8 km) Championship Course, between Putney and Mortlake on the River Thames in south-west London. The rivalry is a major point of honour between the two universities; The Boat Race is a side-by-side rowing race between crews from the universities of Oxford and Cambridge along a 4.2-mile (6.8 km) tidal stretch of the River Thames in south-west London.
The Boat Race Results
The women's race was the first event of the day, and saw Cambridge lead from the start, eventually winning by a considerable margin. This was their third consecutive victory, taking the overall record in the
Women's Boat Race
to 44–30 in their favour. The men's race was the final event of the day and completed a second consecutive whitewash as Cambridge won; it was their third victory in four years, taking the overall record to 84–80 in their favour. In the women's reserve race, Cambridge's Blondie defeated Oxford's Osiris, their fourth consecutive victory. The men's reserve race was won by Cambridge's Goldie, who defeated Oxford's Isis.
Cameras and Filming at the Boat Race
The races were watched live by thousands of spectators lining the banks of the Thames. They were also live-streamed on YouTube, and by multiple media organisations around the world, including in Germany, South Africa and China.
Working with sister company
CTV
, Aerial Camera Systems were proud to be involved in providing our specialist cameras and crews for the BBC coverage of this prestigious sporting event. Our camera team provided:
Stabilised mounts on the chase boat and umpire boat,
Helicopter from our aerial unit <link: > for capturing great overhead shots
SMARThead3 - new for this years event, and was used at the start of the race.
For this fast paced sporting event, with global coverage, the
Aerial Camera Systems
(ACS) cameras and crew were on top form, and manged to gather some fantastic footage.
To find out how Aerial Camera Systems specialist cameras and crews can enhance your next filming project, then please
get in touch
or have a look at our
showreel
.