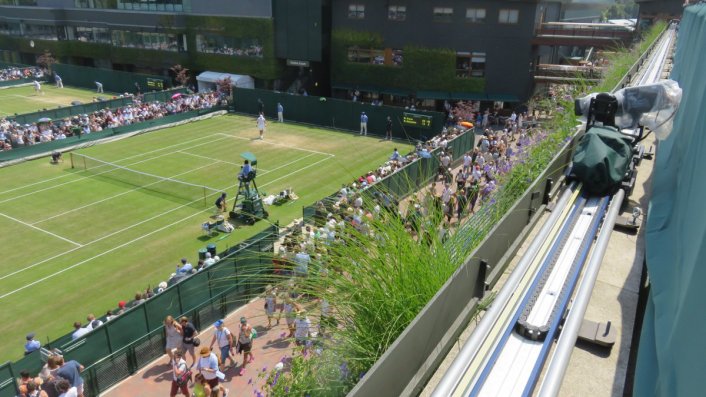 As the Wimbledon Championships close after another fabulous two weeks of excitement, Aerial Camera Systems reflect on our involvement in the filming at Wimbledon, where the day to day operations are lead and conducted by the All England Lawn Tennis Club (AELTC).


This year marks the 90th anniversary of Wimbledon coverage on the BBC, a huge broadcasting feat that has become a staple of the summer months. Over the decades we've seen it all: from the tears rolling down Murray's cheeks to the first streaker dashing across Centre Court in 1996. This year, Roger Federer beat Marin Cilic to win a record eighth title, and ACS were there to capture it all with our specialist cameras.
There are many different broadcast cameras used to capture different aspects of the Championships, when filming at Wimbledon, and we were there, filming on and off the court.

Our SMARThead™ remote heads feature heavily around the grounds most notably on the umpire's chairs to give intimate shots of the players at the net or sat down between games. A number of rail cameras track the action on the courts and in the grounds. In Centre Court and No.1 Court they were placed at the end of the court to deliver the coverage at the baseline.
Aerial Camera Systems (ACS) has a long history of supplying specialist cameras and filming at Wimbledon. This year we handled a total of 30 camera positions for three customers, including:

For BBC Sport a total of six camera positions (as well as an eight strong camera crew (working in rotation)), all of which are tightly integrated into the coverage of the tournament. This included a hoist camera with HD stabilised mount (HD Cineflex V14). Also, the baseline track cameras and umpire chair cameras on both Centre and No. 1 Court. In addition, a brand new robotic camera on Court 14.

A further 21 cameras were supplied to the AELTC including remote heads in the press room and practice courts, rail cameras and minicams.

Court 2 utilised SSM remote position which features a pan bar controller specifically designed for the ACS SMARThead™, developed by Aerial Camera Systems. This provides a great solution for high-end remote cameras for filming at Wimbledon.

Aerial Camera Systems are very proud to have been involved in such a historic event and have received very positive feedback from the broadcasters about the filming at Wimbledon. If you would like to read about ACS' involvement in more detail please see the interview with our Sales Director, Matt Coyde and Sports Video Group Europe.

To find out more about our filming at Wimbledon, or to see how our extensive range of equipment can meet your filming requirements then please have a look at our website or give us a call to chat through your requirements.