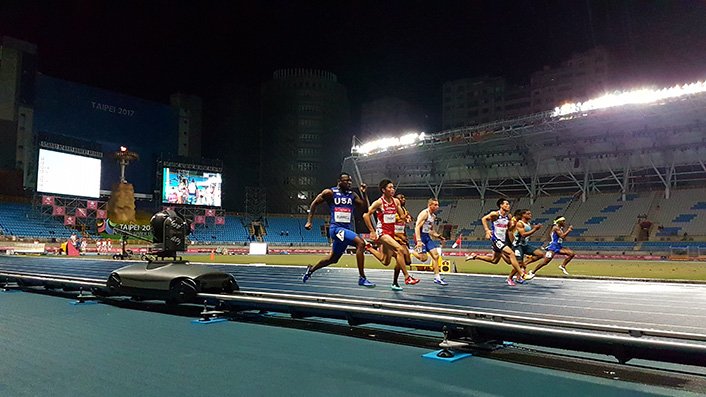 After a successful delivery at the World Athletics Championships in London, our crew and kit have been out in Taipei involved in the live sports filming at the Summer Universiade.

Summer Universiade
The Universiade is staged every two years in a different city and consists of 14 compulsory sports and up to 3 optional sports chosen by the host country. The event embraces the FISU's motto of 'Excellence in Mind and Body'. The event incorporates educational and cultural aspects into 12 days of sports competitions, allowing university student athletes from all over the world to celebrate with the city in a true spirit of friendship and sportsmanship.
2017 Summer Universaide
The 2017 Summer Universaide was held in Taipei,Taiwan (formally known as the Republic of China) and takes place from 19 August to 30 August.
The sports featuring in this year's events are as follows:
Compulsory sports:
Artistic Gymnastics (men and women)
Athletics (men and women)
Basketball (men and women)
Diving (men and women)
Fencing (men and women)
Football (men and women)
Judo (men and women)
Rhythmic Gymnastics (women)
Swimming (men and women)
Table Tennis (men and women)
Taekwondo (men and women)
Tennis (men and women)
Volleyball (men and women)
Water Polo (men and women)
The optional sports are:
Archery (men and women)
Badminton (men and women)
Baseball (men) Golf (men and women)
Roller Sports (men and women)
Weightlifting (men and women)
Wushu (men and women)
Roller sports and wushu are officially included as optional sports for the first time in the 2017 Universiade.
Live sports Filming
With so much going on at the Summer Universiade there is a huge requirement for broadcast coverage. The team at Aerial Camera Systems (ACS) are delighted to have been selected to help capture the live sporting action. Our crew of 17 have rigged and operated:
100m Track for the athletics home straight.
7m Vertical track for Hammer/Discus/High Jump and Pole Vault <link to track Vertical track
SMARThead™ remote head
50m track for swimming
Divecam, underwater remotes and underwater track no link available
In addition to the live sports filming at Summer Universiade we're also hoping to catch a glimpse of the mascot of the games – Bravo, a Formosan Black Bear. The gold medal worn by the mascot represents victory. The mascot overall, represents the athletes' self-challenge and pursuit for excellence and hope and joy of all Universiade participating athletes from around the world.
Aerial Camera Systems (ACS) continue in our own pursuit for excellence in specialist cameras and hope that our work at Summer Universiade will provide the event with some great coverage. Please check our website regularly for news and updates, or contact us to find out more about our aerial cameras, tracks and rails, or aerial filming services.