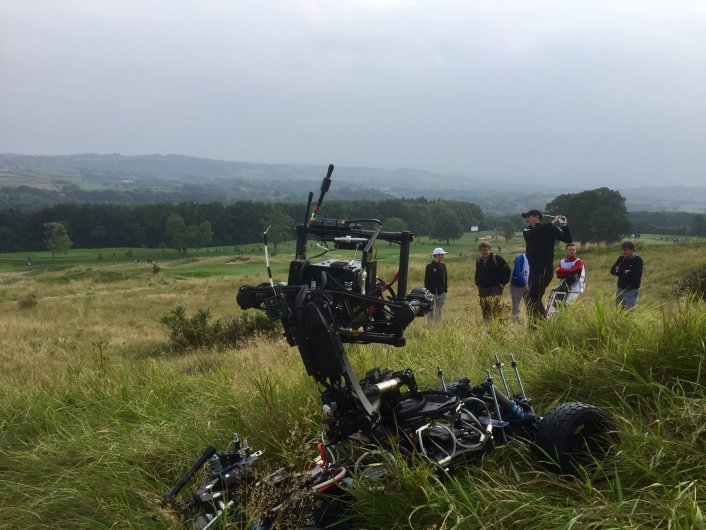 Another great
Aerial Camera Systems
' (ACS) innovation is our KartCAM. Perfect for capturing and delivering unusual or moving shots and allowing the viewer right into the heart of the action.
Aerial Camera Systems Tracking Vehicles
Aerial Camera Systems
(ACS) have a range of
tracking vehicles
, in our camera/filming inventory. The ACS fleet of vehicles compliments our large range of specialist filming facilities on offer to our clients. We have a range of small remote controlled tracking vehicles which are ideal for more discreet tracking shots, on land and on
water
. One such vehicle is our
KartCAM
.
KartCAM
The
KartCAM
is a new and innovative way of delivering unusual tracking shots or a different perspective on a subject. The
KartCAM
coupled with the Movi stablised head allows for stable and dynamic low camera angles.
KartCAM
is fitted with a custom vibration isolation system so that the buggy can track smoothly, ensuring high shot stability even in the most demanding of environments. KartCAM also offers the ability to take a camera into areas where it may be difficult or impossible for an operator to go.
Integral to the KartCAM is its high performance brushless motor enabling the buggy to endure long running times and incredible peak power. The system is easy to rig and can be combined with an ultra-lightweight custom built M15 Movihead 3 axis camera stabiliser head. For television applications, the Movi head is fitted with a Sony HDC P1 and Fujinon 4x Zoom lens (7.5-30mm) as standard (option for Sony F55 and prime lens also available). The package also includes a Cobham HD RF link and radio camera control system for live transmission to the OB and seamless integration into the production workflow.
KartCAM
has tracked the runners at the London Marathon, got right in the middle of the All Black's Haka at the Rugby Union Autumn Internationals and followed the golfers round at the British Masters.
Tracking Cameras
If you have any filming requirements, particularly where tracking shots are required then KartCAM may be the ideal solution. If you need to track on water our
BoatCAM
offers a similar solution. Why not visit the Aerial Camera Systems (ACS link)
website
to get in touch with the worlds leading specialist camera company.