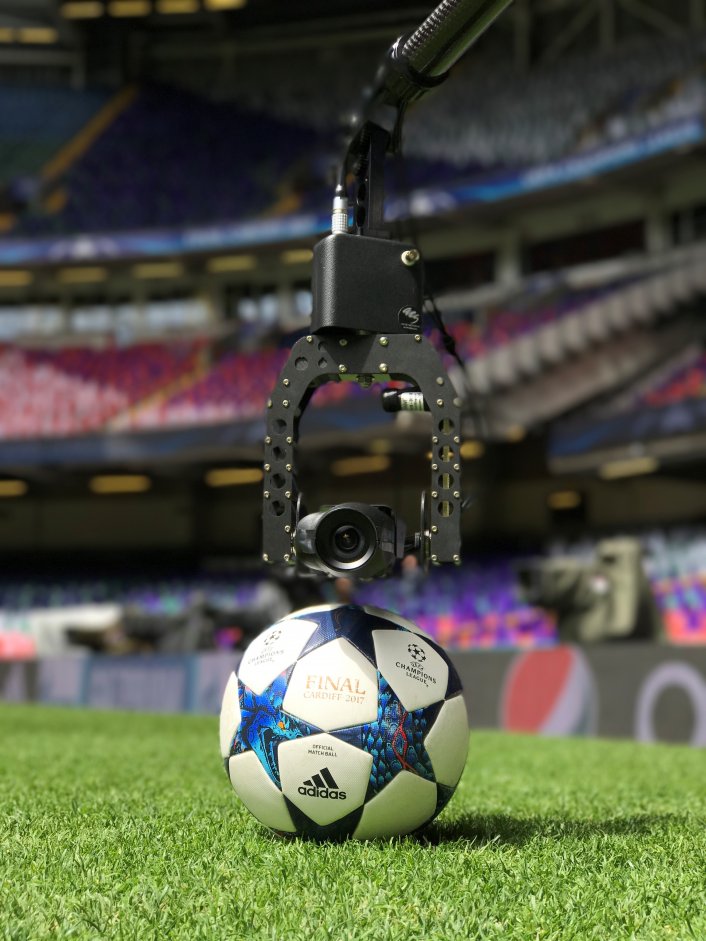 Aerial Camera Systems (ACS) have recently been featured in Definition magazine in an article covering our ground breaking bespoke 4K camera filming used earlier this year.
Aerial Camera Systems (ACS) were featured in the October 2017 edition of
Definition magazine
. Definition covers the latest technologies and trends, predicting the future of the professional video production market. It has established itself as the No. 1 title read by leading practitioners and decision makers at the cutting edge of moving image optimisation, so we were delighted with their coverage of our work.
The Definition article covered the filming that Aerial Camera Systems (ACS) was contracted to do by BT Sport as Host Broadcaster - to exclusively deliver HD and UHD specialist cameras for the
Champions League Final
in Cardiff on 3rd June 2017.
Filming at the Champions League Final
Whilst filming took pace in June, our planning for filming the Champions League Final began in January of this year with a period of development and testing required for all the cameras by the ACS in-house research and development team. The majority of the ACS provision was for BT Sport's 4K broadcast which involved 12 dedicated UHD cameras; 7 of which were provided and operated by ACS. This was a first for ACS and for the event, but our meticulous planning resulted in a faultless technical delivery by the ACS team onsite, as well as pioneering new ways our specialist cameras can deliver UHD/HDR coverage.
Filming for BT Sport
Live 4K Aerials
: The full service provision of UHD aerials were delivered offering stunning shots of the city, stadium and teams as they made their way to the venue. This was only the second event for which ACS has shot live UHD aerials following an industry first for a package of 8x live matches during the 2016 European Football Championships hosted in France.
Railcams
: Inside the stadium there were a number of innovations. Making their debut at the match were two behind the goal railcams with integrated SMARThead™ remote heads and for the first time, fitted with Sony P43 camera channels and 4K lenses offering live UHD as well as 2x UHD speed replays.
Polecams
: ACS provided and operated Polecams fitted with Antelope PICO cameras offering simultaneous 1080 50P (up converted to UHD) and 1080 50i Live and High Frame Rate replays with turnkey fibre transmission systems (Video/Data/Comms) behind each goal, a first for the coverage of a UEFA Champions League Final. HD minicams were also rigged within the goals to get closer to the action.
SMARThead™ Remote Heads
: For coverage off the pitch new remote cameras were used. One ACS SMARThead™ was rigged with a Sony P43 UHD camera and lens enabled with HDR. This was used to provide dramatic coverage of the players tunnel area in the build up to Kick Off, Half Time and Post Match. An additional SMARThead™3 was used as a beautycam, rigged to a hoist to capture the scenes outside the stadium. The SMARThead™3 itself was for the first time, fitted with a Sony 4300 camera and wide angle lens supplied by Telegenic.
Aerial Camera Systems (ACS)
The ACS team rose to the challenge of bespoke 4K camera filming for the Champions League Final, and achieved stunning shots as a result of the planning, testing and development undertaken for this project. As outlined above, the team were filming using live 4K aerials, railcams, polecams and SMARThead Remote Heads with a range of cameras.
ACS delivered a significant amount of innovative cameras in order to cover the Champions League Final in all its glory, breaking new ground in terms of 4K camera platforms and contributing to the overall success of BT Sport's coverage of this event. If you'd like the see the full article, it can be found in Definition magazine. Alternatively, browse our website or contact us to find out more about our services such as our aerial cameras, aerial filming, helicopter mounts,
tracking vehicles
and
Inspire 2 drone
filming or our very special
EyeFlyer blimp
.