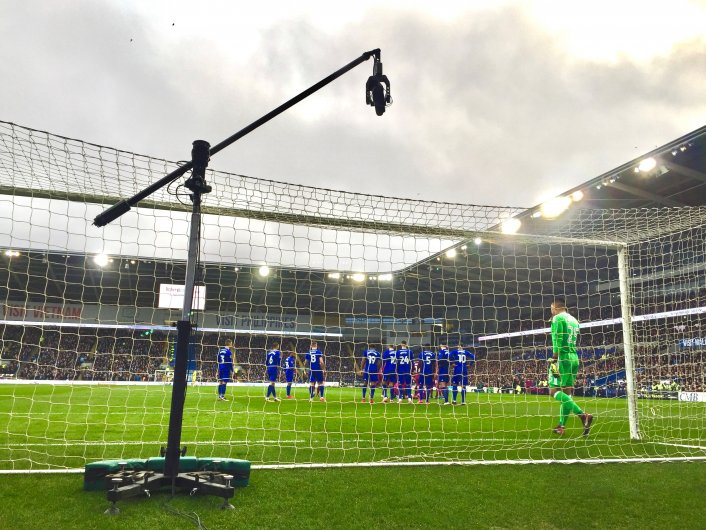 Aerial Camera Systems (ACS) has designed and delivered some ground breaking specialist camera equipment to the film and television industries over the years. Recently our very own Matt Coyde, Sales Director at ACS, spoke to Sports Video Group Europe (SVG) about some of our camera innovations.
With over thirty-five years' experience in the film and television industry, in the UK and around the world, we now have a large inventory of filming equipment.
SMARTgrip™
In the
SVG article
, Matt talks about one of our latest products, the SMARTgrip™, which was designed and built in-house by Aerial Camera Systems. It has been used for behind the goal action of football coverage.
The SMARTgrip™ is a compact robotic camera system which adds an extra dimension of movement to our widely acclaimed
SMARThead™
product series. The new innovation has a small footprint and consists of a
SMARThead™
remote head fitted with a balanced carbon figure arm and mini robotic head with PICO mini camera. This provides a smooth, jib like fully controlled camera movement. The high frame rate and simultaneous live camera offers spectacular ultra slow motion and enables vantage points where no other camera can go – such as a discrete option behind football goals.
Matt Coyde talks to SVG
During the interview, Matt also talks to SVG about which camera innovations have had the greatest impact – including the home straight railcam for Athletics, the ACS
tracking vehicle
and
Wirecam
for Horseracing.
Moving on to the future, Matt then also talks about the challenges for Aerial Camera Systems (ACS) in 2018 and the recently introduced
Inspire 2 drone
.
Aerial Camera Systems – Filming Equipment Inventory
Aerial Camera Systems (ACS) continues to develop remote camera innovations and are always keen to engage with clients and partners to incorporate our robotic camera technology – SMARThead™ – into remote production delivery.
If you would like to discuss how ACS can help with remote camera innovations, or any other equipment in our unique filming inventory (including stabilised mounts, aerial drones, railcams, wirecams, tracking vehicles, aerial filming coordination services and the unique sponsor funded EyeFlyer blimp), then please browse our services on our
website
or
contact us
.