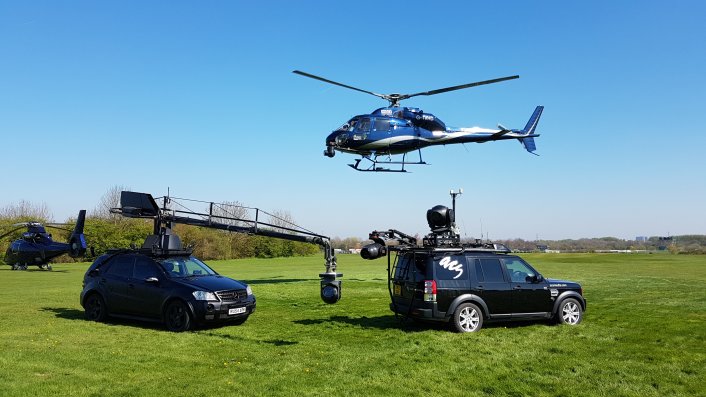 Depending on the country where you live, live events such as baseball, football, horse racing, motor racing and skiing have long been some of the most popular elements of daily television broadcasting, right back to the start of television. Prior to that, it required the talents of radio commentators to conjure images of these events into the imagination of their audiences. In this article Aerial Camera Systems touches on the history of sports filming, broadcasting and the potential future.
History of Sports Filming
The broadcasting of sports events (also known as a sportscast) is the live coverage of sports as a television program, on radio, and other broadcasting media. It usually involves one or more sports commentators describing the events as they happen.
The first sports event broadcast in the United Kingdom was a
Rugby Union
international between England and Wales, broadcast from Twickenham in January 1927. Two weeks later the first broadcast of a football match took place, with the
BBC
covering Arsenal's league fixture against Sheffield United at Highbury. Listeners to the broadcast could use numbered grids published in the
Radio Times
in order to ascertain in which area of the pitch the action was taking place due to a second commentator reading out grid references during the match.
The United Kingdom saw the first live television broadcast of a football match, with the BBC showing a specially arranged fixture between Arsenal and Arsenal Reserves on 16 September 1937.
Mobile filming
Almost from the inception of televised sports broadcasting, mobile television production vehicles were coupled back to base via multihop line-of-sight links. Many state broadcasters maintained an entire department to handle communications issues, supplying auxiliary link vehicles with dish aerials aimed at intermediate repeaters, which carried line-of-sight wireless feeds to and from headquarters. Before long, many of the world's largest cities were equipped with a coaxial network linking broadcasters with key outside broadcast locations such as sports arenas and concert venues.
Until the advent of videotape recording in the late 1950s, sports broadcasting was by its very nature live. Multiturret lenses, succeeded later by powerful zoom optics, allowed a small team of camera operators to follow field sports action simply and efficiently, connected by cable straight back to the OB truck. Film played a crucial element in delivering close-up coverage of activities such as yachting, mountain climbing, flying and even parachuting. Many years passed before mobile VTRs could match the quality and portability of film.
Robotic Cameras
The most important single advance in sports broadcasting has been, and continues to be, the introduction of specialized robotic cameras. Take the example of televising a boat race. What better cutaway from the traditional shots from the riverside or following boat could you wish for than a miniature lightweight camera mounted above the stern of the competing boats? One possibility is a view from within each boat showing the respective coxes urging the crew onward. There is a lot more to this than meets the eye, as issues such lens cleaning under wireless remote control; installing, testing and dismantling the kit under competition conditions; and ensuring efficient RF links combine to make this "wet hire" at its wettest.
Filming In HD
So, where is sports filming technology going next? An important recent development is the availability of highly robust recorders capturing 1080i/720p HD video and high-quality audio to solid-state memory devices such as Compact Flash. When transmitted at two megapixels per frame, HDTV provides about five times as many pixels as SD (standard-definition television). The increased resolution provides for a clearer, more detailed picture.
Aerial Camera Systems Filming Sports
Aerial Camera Systems, are at the forefront of modern sports filming and broadcasting techniques. Our large inventory of specialist equipment means that we have a camera suitable for every filming occasion.
Take the boat race example above – our
BoatCAM
is perfect for obtaining close up shots of life on or off the water.
If you are tracking on land, rather than water, our
4x4 tracking vehicles
are great for use in a range of adverse terrains and are specially customised in house to carry stabilised camera and broadcast RF systems – perfect for providing dynamic coverage.
Need a remote head camera? Our
SMARThead
remote head camera package comes complete with full camera channel and specialist crew.
As well as our large inventory of specialist cameras we design and built our own bespoke cameras for specific requirements.
Your Next Sports Filming Project
Aerial Camera Systems have substantial sports filming experience, dating back over 20 years. We have worked on projects such as large international aerial provision and co-ordination, major state occasions, Premiership football and UK horseracing coverage as well as world-wide sporting events from the Olympics to the World Cup.
If you would like to find out how Aerial Camera Systems can assist with your next sports filming project then please
get in touch
.
Alternatively, have a look through our
showreel
.